您在這裡
Pre-amp One BK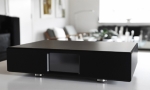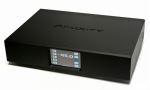 產品規格
Product Overview
With the clean lines and the 5 inch touch display, the Alluxity units doesn't really look like anything else in the High-end world. The one piece chassis gives the products a quality look, the user interface enhances usability and enables product status feedback to the user in an easy to read manor.
The Alluxity series all includes both Ethernet and a separate intelligent two way intercommunication interface which allows each product to communicate with one another, while being controlled with an Apple or Android App. The units also respond to a Mac remote. All product chassis are milled out of one solid block of aluminium. During the design complete separation of all none sound and sound parts of the products and left and right channel, was carefully considered, to make sure noise and musical performance was enhanced beyond the electronics part of the products
The PRE ONE is your typical preamplifier, simplified to take ease of usage to a new level.
With its standardised two gain stages pr. Channel and it's no nonsense relay volume as simple as it gets, which takes its performance amongst the best in the world.
The topologies of the modules are balanced with zero global feedback. This prevents even minor phase errors and low noise levels. As the modules are easy to exchange, future upgrades are not only easy, but also cheap compared to exchanging to a new preamp.
With its total of 5 inputs, 2 outputs, and dedicated bypass output –it will fit in pretty much every system and application one could possible think of.
《Hi-AV影音網》報導:音悅TAA2013展房深入現場
《Hi-Fi音響 Review》報導:清新秀麗 明日之星 Alluxity
音響論壇 文:劉漢盛如果您不買它,還有什麼可以買呢? Alluxity Pre One/Power One
《Hi-AV影音網》名廠大搜密:丹麥精品Alluxity 重新定義21世紀的Hi-end音響
販售商品皆為代理商公司貨,購買商品時會附上代理商的保固卡或保證書。
也請您詳細閱讀保固內容,以便瞭解自己的權益。
商品的保固期限自購買日 算起,視代理商的保固期限有一年或是兩年保固。